THORPE PARK Resort Guide to Beating the January Blues
Tuesday January 17th 2017
Jordan
Oh January, you cold, wet miserable month. Winter's no fun when it's not covered in fairy lights and full of jolly Christmassy cheer is it? And we're not even open to cheer you up! But just because we're closed doesn't mean we can't impart some wisdom and tips to keep you chugging along until we reopen for the season and all is right with the world again (it's March 23rd, by the way). So here are our top tips for keeping those January blues at bay!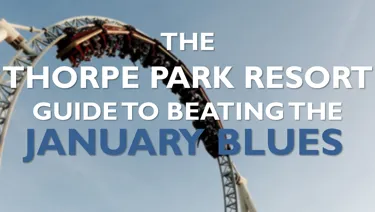 Plan a trip
January is the perfect time to sit down with your calendar for the year and start planning out where you want to go. Whether it be a long holiday somewhere warm or even a fantastic days out with your friends (we have a suggestion if anybody needs one…), once you have something in your calendar to look forward to it definitely helps to keep you going!
Declutter!
We know traditionally it's called 'spring cleaning' but we know we're not the only ones who feel a little overwhelmed with STUFF once Christmas is over. And the start of a new year is a great time to say 'out with the old' and get rid of some clutter. Go through your wardrobe and donate your unused clothes to charity or empty that cupboard that's so full of tat you're scared to open it in case it empties on top of you. Trust us when we say once you've made some space you definitely feel refreshed and more relaxed.
Start a new hobby
January has always been about new beginnings and it's a great time to find the motivation to try something new. What have you always wanted to try but never gotten around to doing? Pick whatever hobby it is you want to try then either head to Pinterest for some inspiration or better yet do a quick search online to find a local club you can join (also a great way to make new friends!).
Go outside
OK, we know the likelihood is that it's freezing cold/pouring with rain/both when you're reading this, but hear us out. Because of the rubbish weather you're more likely to stay inside at this time of year and that can very quickly lead to feeling bored and few up. A few breaths of fresh air can definitely help to perk you up and plus there's something quite beautiful about wandering around your local park in the cold, frosty air. Why not take a camera along with you and see if you can catch a glimpse of some winter wildlife?
Make a 2017 'to do' list
Did anybody see the 2017 THORPE PARK Resort bucket list we posted the other day? Making 'to do' lists are a great way to plan your year and ensure you get everything done that you plan to by the time 2018 rolls around. Plus, once you have all of your goals laid out in front of you in a reasonable timeframe, everything seems so much more achievable. Super motivating!
There we have it. Hopefully we've helped to give you a bit of a pick me up in this dreariest of months. What goals do you have planned for 2017? Share them with us in the comments section; we'd love to see what you're all up to!
Until next time Islanders,
Jordan
Official THORPE PARK Resort Blogger