Thorpe's Big 4-0 – Birthday Weekender!
Tuesday May 21st 2019
Michael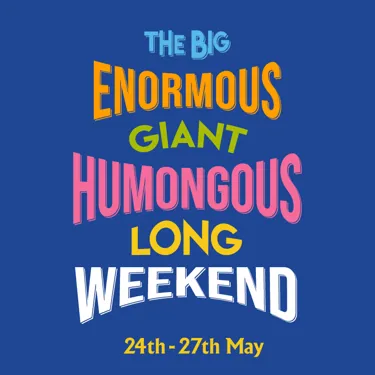 Our Birthday is going to be HUGE. In fact, we're calling it The Big Giant Humongous Long Weekend! As well as all of our amazing rides and attractions, over the weekend of the 24th/25th we have four of our 2019 events running simultaneously. Read all about them, here.  
Local Love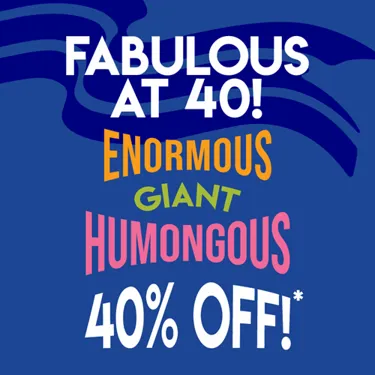 We're offering our lovely locals a special little treat as this weekend (between Thursday and Monday), the first 40 Local Pass Holders and or those with a KT postcode can enjoy a delicious Thorpe Park Birthday cupcake on us! You can collect your Birthday treat from Costa Coffee Shack located in The Dome.
Continuing the celebration, we're showing some Birthday love by offering a HUGE 40% discount across all of our non-branded retail and food shops to those who are turning 40 in 2019! Simply present a valid and matching photo ID proving you are turning age 40 in 2019 and take advantage of these Birthday savings until the 31st May!
*You must present a valid and matching photo ID proving you are turning age 40 in 2019. Discount is not valid in conjunction with any other offer or discount. Offer valid from 17th - 31st May 2019. Thorpe Park reserves the right to withdraw/alter the offer at any point.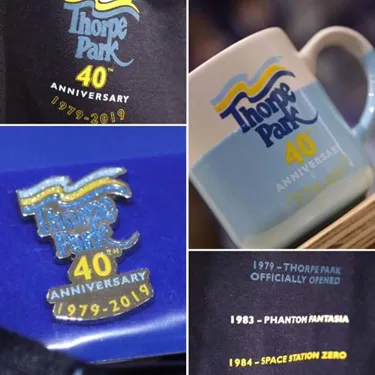 We're also marking our 40th anniversary with a fab range of retro inspired merchandise! Guests can get their hands on a mug, retro lanyard and sparkly pin badge and a too cool for school retro branded varsity jacket!
Do-Nut Miss This!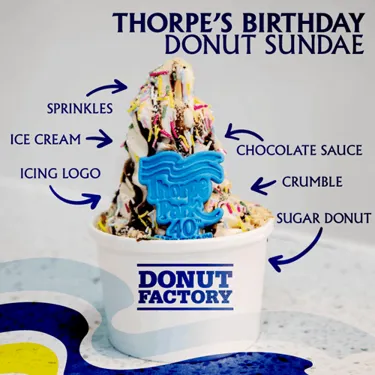 Have you ever tried a donut from our fabulous Donut Factory? Now may be the time to indulge in a sweet treat as we're introducing a sensational Birthday sundae! We've tried this and it is life.
The sundae is built on a sugared donut foundation with a mountain of vanilla ice cream, topped with delicious chocolate sauce, a buttery crumble and sprinkles! This Birthday bonanza is finished with a fondant Thorpe Park logo that's as Instagram-able as it is tasty. Head to the Donut Factory and get your hands on one! 
Throwback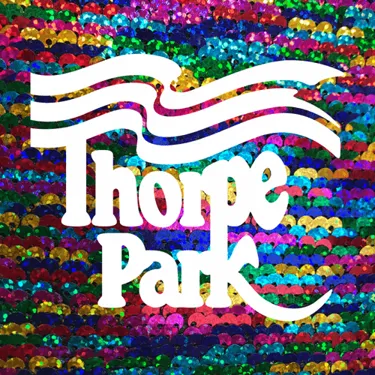 Look out across the Resort as our retro logo will be making a guest appearance around the birthday weekend! We love the clean look and waving flags, promising a fantastic day out. Do any of you guys remember seeing this logo during your visits back in the day? Don't worry, we won't give away your age by telling you when we changed it ;)
With so much to see and do, we strongly suggest you book a short break so you can take full advantage of this incredible weekend. See you there!
Michael
Official Thorpe Park Resort Blogger