What Is The Sound Of The Island?
Tuesday March 21st 2017
Craig Jennings
A look behind the new audio identity of the Island Like No Other!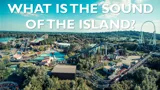 So, what is the sound of the Island? It's a question we asked ourselves one quiet September afternoon in the office.
"The Top 40!" one said. Sure, we all love a good dance, but our Resort has more spirit, more history and more personality than that.
"The thuds of Nemesis Inferno" piped our Head of Corporate Events.
"Erm, the sound of fireball from THE SWARM?" our Digital Manager suggested.
"Hey don't forget Big Bob Jones!" yelped the Events Manager - that's more like it!
It turns out that THORPE PARK Resort is alive with a whole smorgasbord of iconic sounds from the past and the present. And I'm sure, like with so many of us, it brings back so great memories of good times on the Island Like No Other.
But this conversation got us thinking - what are the future sounds of the Island? If it could play a tune, what would it be? Our Education Co-ordinator started to hum a tune - we stopped him right there. It was time to bring in the experts.
And so it was decided. For the past 7 months we have been working alongside some of the greatest minds in themed music, IMAscore, to do just that! When we invited their whole team over to visit our Resort in December we knew this was a match made in heaven. After walking them through our vision, Xaver and his team flew back to their HQ in Germany and have been hard at work creating a whole new soundscape for our exhilarating Resort in 2017.
IMAscore said:
"The team of THORPE PARK Resort set IMAscore a huge task:
'Help us create a new audio identity for our Resort.'
Even though our team has done a lot in the theme park industry in the last years, this task is really special, as it's a once in a lifetime experience for us. From finding the most representative and fitting sound and melody, to adopting it to the several areas of the park in form of individual soundtracks, we have to create the most elaborate Acoustic Theming we've ever done. That's very exciting and we're proud and happy to be on board on this journey with the enthusiastic team of THORPE PARK Resort."
We are so excited to be bringing a whole range of incredible new music to our Island in 2017, which we'll be rolling out over the next few months and I know you won't be disappointed. Keep your ears pricked as you explore the park this season, it's just another page in the story of the Island. We're not ready to give away everything yet, but here's a tease to whet your appetite!
Until next time Islanders,
Craig Jennings
Guest Blogger and Brand Fiend