What's In My Bag - Theme Park Edition
Monday July 25th 2016
Jordan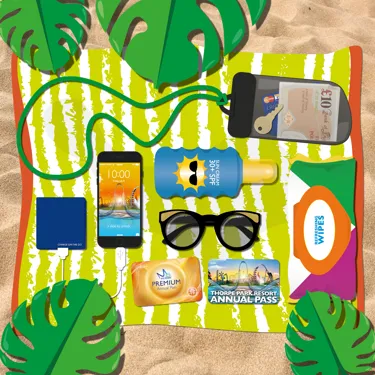 We get asked ALL THE TIME what essentials you should pack for a day out on park. It's a big decision: what if I forget something? What if there's an emergency and I'm not properly equipped?! WHAT THEN?
Well, actually, our first piece of advice would be, if possible, don't bring a bag. We know you're all staring at this from behind your screens thinking 'yeah, right', but hear us out. We have bag drops available on park but realistically having a bag is kind of annoying when you're on park, and a burden to carry, so where possible DITCH THE BAG.
If you INSIST upon lugging a bag around with you all day, we've created a shortlist of theme park essentials so you're a little easier on your shoulders. Here we go:
1. Phone
A given, but no need to lug a camera around with you or even bother wearing a watch as it's all there in the palm of your hand
2. Portable phone-charger
The only downside of phones – they run out of battery. Then you'll suddenly find yourself back at square one and crying inside over not bringing your camera. Portable phone-chargers are SO handy, especially for days out where you are more likely to want to capture those #ISLANDMOMENTS
3. Baby-wipes
Honestly, we can't think of a situation where we wouldn't pack baby wipes, but especially a day out at a theme park where you'll be chomping down on sweet treats and generally being messy. Baby-wipes to the rescue!
4. Sun-cream
Cue cries of 'but Thorpe, it's the UK! The sun doesn't shine here!' Yes well whilst that might be true you're still exposed to the element pretty much all day, and like it or not that's going to require a coating or two of sun cream. Slap it on and top up throughout the day!
5. Spare socks
When you're dripping wet from a plunge on Tidal Wave you'll be singing our praises when you remember that reading this post reminded you to shove a spare pair in your bag.
6. Waterproof wallet
And make sure you condense down from your normal wallet too – you don't need to lug that huge thing around in your back all day. Just pack the essential cards and cash you'll need and either use a waterproof wallet or put your wallet in a zip-lock bag.
7. Park tickets
Whether you're an Annual Passholder, buying on the gate or printing before you visit, better make sure you have these bad boys to hand otherwise your whole visit will have been kind of pointless!
Until next time Islanders!
Jordan
Official THORPE PARK Resort Blogger