A THEME PARK LIKE NO OTHER: Ghoulish Goodies
Friday October 18th 2019
THORPE PARK Official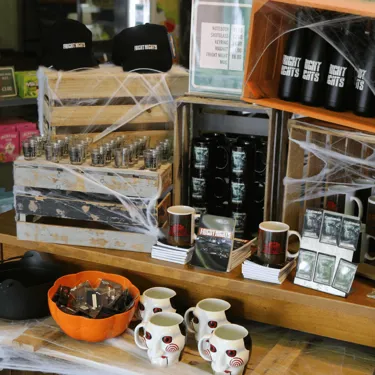 Heading down to FRIGHT NIGHTS 2019? Of course you are! Obviously you're coming for our awesome scare mazes and horror attractions. Make sure you check out our fab range of ghoulish goodies and pick up a Halloween treat to remember your visit.
This year we have a range of merchandise that will give you a fierce reminder of the brilliant evening you had a the Home of FEAR. 
Wicked Water Bottle
Water bottles are super trendy nowadays, especially reusable ones! This is the little black water bottle that's perfect for any spooky occasion. The message is clear FRIGHT NIGHTS is here and it's dark!  The sleek, matte design is elegant and looks great in any thirsty situation!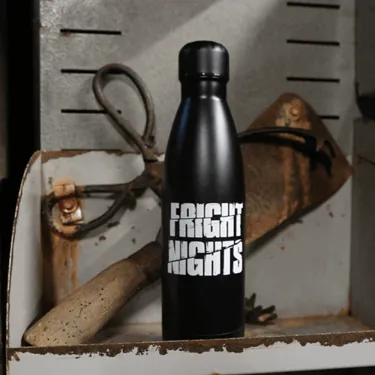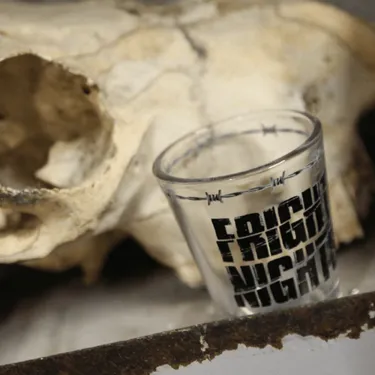 Say cheers with this cheeky little shot glass. It holds the perfect amount of your favourite tipple to give you the courage you need to take on anything! Check out some frightfully fabulous shot recipes below to get you in the spooky mood!
VAMPIRE'S KISS (NON-ALCOHOLIC)
A bitter sweet moment. Are you brave enough to smooch a vampire? 
You will need:
Cranberry Juice
Grenadine
Pink Lemonade
Recipe:
1. Pour a little Grenadine into the bottom of the glass
2. Add the pink lemonade until half full
3. Top up with cranberry juice
4. Serve and enjoy!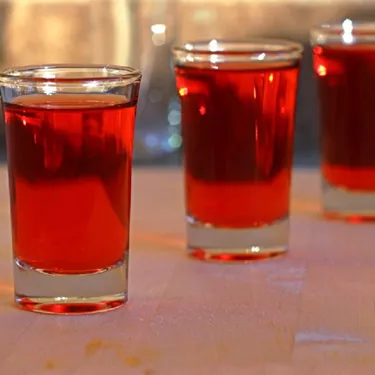 ZOMBIE BRAIN
A classic shot that looks 'eurhg!?' but tastes 'mmmmh!'.
You will need:
Peach Schnapps
Crème De Menthe
Irish Cream
Grenadine
Recipe:
1. Start off by adding some peach schnapps to your shot glass
2. Next, add some crème de menthe for a bit of colour
3. Hold a small spoon over the top of the shot glass and gently pour the irish cream over the back, allowing the liquid to fan out and spill into the shot glass. Doing this helps give this shot a lot of nice texture as the cream hits the alcohol
4. Add a dash of grenadine for more colour and to help pull the Irish cream down
5. Serve and enjoy!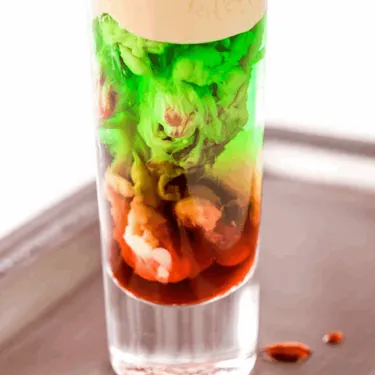 Enjoy your shots and remember to drink responsibly! 
BRUTAL BASEBALL CAP
A black baseball cap featuring the FRIGHT NIGHTS logo. Simple but not basic. Need we say more?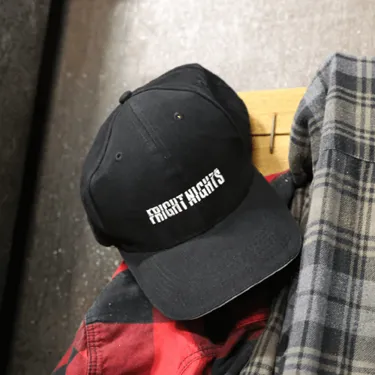 TERRIFYING TEES
Once you've completed the Feared 5 Challenge and collected your prize (hurry, first come first served), get your hands on a Feared 5 t-shirt! Claim bragging rights with your mates that not only have you taken on our BIG 5, you've conquered them in the dark!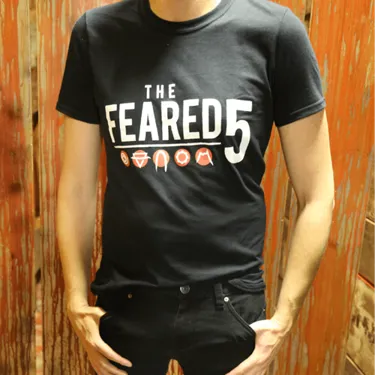 Do you love our 2019 FRIGHT NIGHTS logo as much as we do? Take home the FEAR with this frightful tee.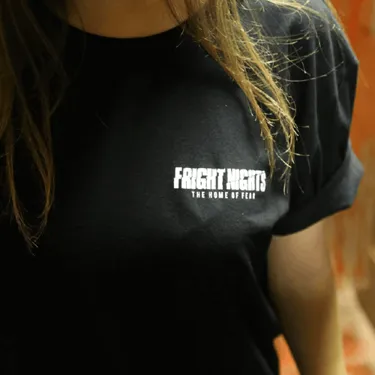 HORROR HOODIES
Everyone loves a hoodie and they're completely versatile! The Creek Freak Massacre hoodie features the menacing maze logo and a scarlet lining in the hood. Pair this with jeans and a checked shirt to really live the lumberjack fantasy.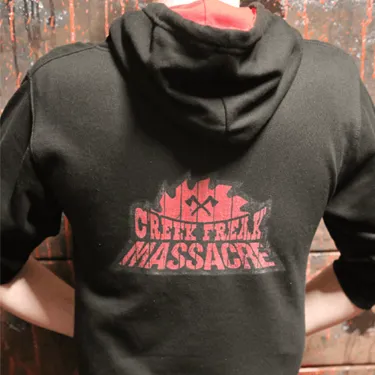 Wear FRIGHT NIGHTS with pride with our 2019 FRIGHT NIGHTS logo hoodie. A warm reminder of the spookiest time of year!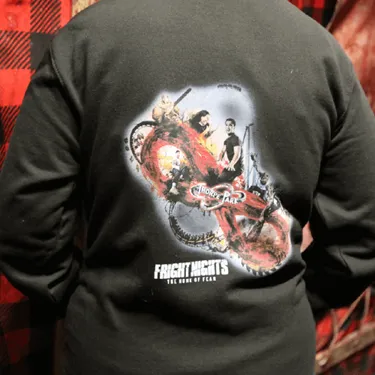 MASSACRE MUG
Want to subtly let your colleagues know what you get up to during your evenings and make them question their safety? This gnarly Creek Freak Massacre mug, complete with maze logo and blood splatters is for you! We'd recommend taking a sip as your manager walks towards you for maximum effect.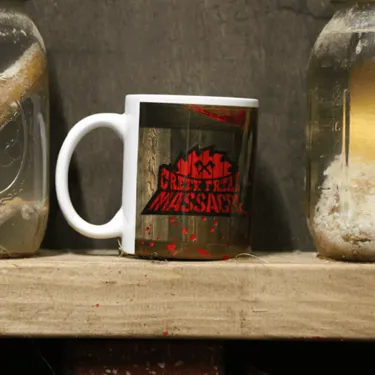 There's more to FRIGHT NIGHTS than this menacing merch and our horror mazes. Check out what else you can explore this scary season.
FRIGHT NIGHTS COKE FREESTYLE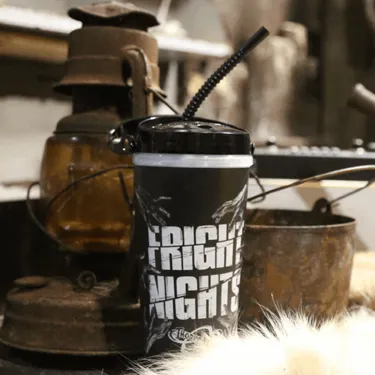 Coke Freestyle has arrived at Thorpe Park! Hundreds of delicious flavour combinations to hold off your thirst, and a smart Freestyle Vessel to keep and re-use during future visits!
NEW for 2019, look out for an exclusive FRIGHT NIGHTS Coke Freestyle vessel PLUS, a devilishly delicious FRIGHT NIGHTS flavour mix! You can buy your 'Freestyle Vessel' from the following locations: The Bridge as you enter, The Dome, The Megastore and the Nemesis Fastrack Shop!
There are three packages available! (Don't forget there's a discount for Merlin Annual Passholders)
1 vessel £10
2 Vessels £18
3 Vessels £24
Keep hold of your cup and reactivate the chip during your next visit this season for only £6! (there's a discount for Merlin Annual Passholders). The Freestyle Refresh and Refill stations can be found in: The Dome, at Rush, Amity Kebabs, Tidal Wave and the Nemesis Inferno Shop.
Make sure you grab yours at the beginning of the day to maximise your mixes!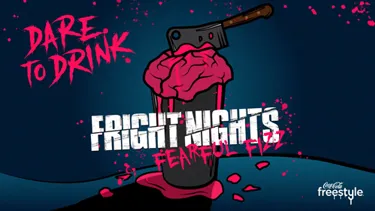 THE HUNTSMAN'S ARMS
Jungle Escape has closed its doors for 2019. Rumour has it though that the Huntsman has retired to his private pub for the winter, The Huntsman's Arms! He'd love to welcome you in to wet your whistle this FRIGHT NIGHTS!
The bar, located in a cosy corner of Wilderness Bar & Kitchen, is perfect to relax in between scares. Don't be put off by the Huntsman's sense of decor. We think bones and shrunken heads brings a certain warmth to the undergrowth that you'll enjoy during your long, dark evening at the Home of FEAR. 
Relax and regain your courage with a range of alcoholic beverages as well as soft drinks and some classic pub snacks!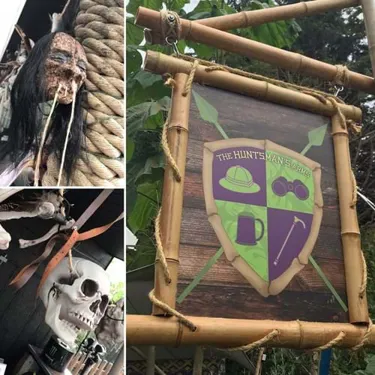 FANTA TWISTED CARNIVAL
'Fanta's Twisted Carnival is a fun Halloween experience where fans will be thrilled and terrified at the same time. You'll be guided through our carnival tent where you'll meet a series of creepy characters and take part in a thrilling immersive experience.' - Coca Cola
A refreshing addition to the FRIGHT NIGHTS lineup! Look out for the Fanta Twisted Carnival throughout half-term!