Five Fab reasons to be happy this Blue Monday
Monday January 16th 2023
Charlotte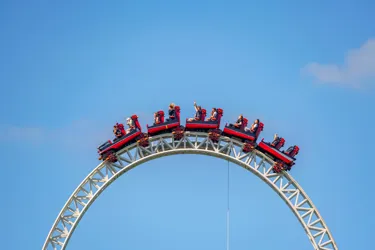 Typically falling on the third Monday of January, did you know 'Blue Monday' was created in 2005 by Dr. Cliff Arnall after he was tasked by his travel company to find out what day of the year is the 'saddest'.
So if you find yourself feeling a little 'blue' we thought we'd share a top tip to help turn those frowns upside down! Did you know an increasingly popular trend is journaling - this can contribute to helping you gain control of your thoughts and emotions and help improve your mood. A good place to start could be by taking some time out to reflect and write down five things that make you happy. Fancy giving it a go? We'll start… 
The countdown is ON!
With just 68 days until we throw back open the gates to the UK's most thrilling theme park, we can't wait to see you back having an epic time, testing your limits, conquering your fears and making those sweeeet memories that'll last a lifetime! With over 30 rides and attractions, plus our season of unmissable events, 2023 is set to be extraordinary!🎢 
Spring into Spring!
It's known that the shorter days resulting in less daylight and the colder, more extreme weathers of winter can influence our mood and energy levels amongst other things. Symbolising new beginnings and known as the season of hope, life, joy and love, the first day of Spring is just 64 days away, only 4 days before our 2023 season kicks off! Bring on sunnier skies, longer days and more daylight hours! We'll be heading into our 2023 season full of positivity that's for sure.🧡 
Unbelievable offers and money saving deals! 
Planning on visiting us more than once this season (of course you are😉) then have we got an epic money saving deal for you – purchase one of our Thorpe Park Annual Passes from just £99 and you'll make unreal savings vs buying a ticket on the day of each visit (£64 one-day theme park entry). A clear winner of a deal in our eyes! 
You'll get access to over 30 rides and attraction plus with four epic events taking place in 2023, there's lots for you to experience and enjoy with us this year meaning multiple visits are a must😜 By buying a THORPE PARK Annual Pass, whether it's our Silver or Gold Pass, you'll be saving yourself some serious £££🙌 
Can't decide which pass is for you? The main differences between the Thorpe Park Silver Annual Pass and the Thorpe Park Gold Annual Pass are the amount of entry dates your pass gives you and the inclusion of free car parking. With the Silver Annual Pass you get 150 days entry, whereas with the Gold Annual Pass you get 190 days entry plus free car parking - so, for an extra £30 you get 40 additional entry dates plus car parking!👑 Better still with both passes you get a whole load of money saving benefits such as 20% off THORPE SHARK Cabin short breaks, 20% off Thorpe Park food and merch around the park and bring a friend for less offers too! 
Did you know our Thorpe Park Gold Annual Pass includes FRIGHT NIGHTS dates as well as access to Mardi Gras, Carnival and Oktoberfest!😱 Save some £ and make some epic memories with your Annual Pass.✨ 
*T&C's apply 
Short Breaks that won't break the bank!
Just seconds away from some of the UK's most thrilling rides is our awesome THORPE SHARK Cabins🦈 Offering an exhilarating getaway for family, friends and couples, our cosy cabins will have you sleeping just feet away from our world-class coasters! Our Easter short breaks start from £90pp and includes: 
🛏 Your overnight stay 
🎢 Two days Theme Park entry 
🚗 Free car parking 
😋 Buffet breakfast 
👊 Unlimited Fastrack 
Book your Thorpe Park short break, pack your bags and get ready for an exhilarating stay! 
 *T&C's apply 
Feel Good Thrills for all!
The world's first Thrill Engineer, Professor Brendan Walker said "thrills can be found in so many places at THORPE PARK. When you're thrilled your body creates a biochemical cocktail of adrenaline and dopamine which rewards you with a euphoric high, and an instantaneous positive change in mood. Your corrugator supercilii – frown muscle – is turned off; your zygomaticus major – smile muscle – is turned on; and this paired with sharing the experience, means you feel happy."😁 
Whether you get your thrills from being launched 0-80mph in under two seconds on our white-knuckle coaster Stealth, or you get your thrills from making a splash on our rapid river ride Rumba Rapids, or you just want those feel good thrills from spending quality time with friends and family we've got you covered!👊 
If you or someone you know is struggling with their mental health, MIND, a mental health charity, has a list of mental health crisis helplines - https://www.mind.org.uk/information-support/guides-to-support-and-services/crisis-services/helplines-listening-services/