The UK's fastest rollercoaster
Prepare to experience the brake horse power of two Formula 1 cars, on our giant accelerator coaster. Place your head back, face forwards, hold on tight and brace yourself… prepare for launch!
Take your seat for a drag race like no other. This hydraulic launched roller coaster will propel you from 0-80 miles per hour in less than 2 seconds!
Thorpe Park's top thrill dragster combines speed and height to create the ultimate theme park thrill ride.
Ride overview
You must be at least 1.4 m to ride
Maximum torso restriction 51 inches
Accessibility Information
*Due to strong magnetic fields this ride is not suitable for those with a pacemaker.
Non-Ambulant & Wheelchair Access
You must have full upper body strength including head and neck control and be able to brace against the forces.
This ride is suitable for non-ambulant riders, you must be able to transfer into the ride seat with assistance.
Missing Limb or Amputation Information
Riders must have a minimum of 3 full limbs, missing limbs/amputations must be below the elbow or the knee.
Prosthetic limbs must be secured or removed before boarding.
Evacuation
During an evacuation you may be asked to exit via use of a ladder.
The safety of our guests is paramount, and as part of our legal obligations we have conducted a risk assessment of all our rides which indicates that some cannot be ridden safely by guests with missing or amputated limbs, or those who use a prosthetic limb.

Each ride has been assigned a limb safety requirement, ranging from no restrictions in the number of limbs a guest has, to all 4 limbs being required. Please note that where a ride stipulates a minimum number of limbs a prosthetic limb cannot be used to reach this number.

A full list of restrictions are detailed in the Accessibility Guide. You can also view our example Ride Access Pass Time Card which has information on ride restrictions.

All prosthetic limbs must be secured to the guest's body or removed before boarding any ride.

If you have any other questions or would like to discuss your situation in more detail prior to your visit either via Phone: 01932 577131 or Email: Customer.services@thorpe-park.co.uk
Touch the sky on one of the UK's tallest roller coasters
Beyond the unforgettable hydraulic launch system, Stealth's iconic steel roller coaster track reaches 62.5m into the air, for a bird's-eye view of the whole theme park. The track blends with the colour of the sky, so riders feel like they're at one with the clouds. 
At 205 ft high, the roller coaster flies slowly over the peak of the top hat. For an unexpected moment, you'll experience incredible negative g-force as you glide like a bird... before plummeting back to earth!
Closer to the ground, another moment of weightlessness awaits, over the track's final airtime hill. The magnetic brake run gives you just enough time to catch your breath, return to gravity and shout "Let's go again!".
Did you know? When Stealth opened in 2006, it was the fastest and tallest launch coaster in all of Europe!
Choose your ticket
Experience over 30 rides and attractions
Save up to £31pp when you book in advance
Children under 1.2m tall visit free
Island Return Guarantee – get a free return visit
Pre-book to guarantee entry
Access to events on selected dates
Stealth is easily the best ride at Thorpe Park. [...] You can't compare the feeling of being launched up 205ft of track, and travelling from 0-80 in under 2 seconds!
Utterly thrilling - the biggest adrenaline rush that Thorpe Park offers. Stunning visuals at the crest of the Top Hat - especially at night.
If you like high g-force rollercoasters and thrill rides, then you'll love our other record-breaking rides
Ride Restrictions
Watch our video to find out more about Steath ride restrictions.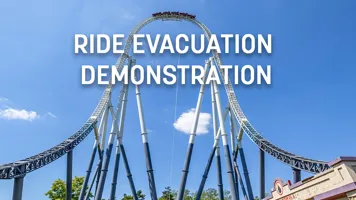 Ride Evacuation Demonstration
Watch our video to find out more about Steath ride evacuation procedures.