The world's first horror movie themed rollercoaster
Ride through Jigsaw's most intricate torture equipment on this terrifying horror rollercoaster. If you can avoid the swinging pendulum blades, the floor of spikes and the giant rotating blades, you might just make it out alive...
Even the bravest thrill seekers will cling on tight as they face a beyond vertical drop of 100 degrees, from a height of 100ft. Plummet towards the ground with almost no view of the track ahead of you. How can you be sure that it's really there?!
Ride overview
You must be at least 1.4 m to ride
Maximum torso restriction 51 inches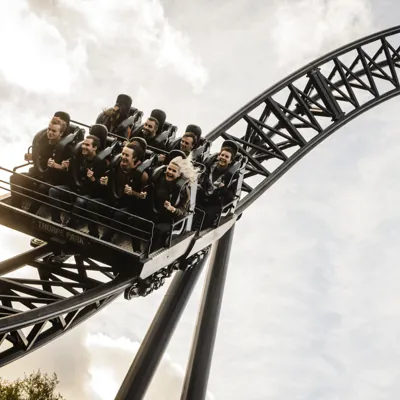 Saw - The Ride experience
Based on the infamous horror movie franchise, this themed roller coaster goes further than any vertical drop ride has gone before. After a terrifying indoor section, riders face the torturous tick, tick, tick up a completely vertical chain lift hill. A 100ft drop awaits as the roller coaster car plummets through free fall at 55 miles per hour. Face your fears on one of the top ten steepest roller coasters in the world!
Thrill seekers and scary movie fans will endure 4.7 g-force, the highest g-force roller coaster ride at Thorpe Park Resort. Expect to be turned upside-down three times, around the twisting, turning track of dive loops, heartline rolls and surprises around every corner.
Look out for the camera, as you'll want a ride photo to remember the time you were a character in the world's scariest horror film franchise!
Choose your ticket
Experience over 30 rides and attractions
Save up to £22 per person when you book in advance
Under 3s go free
Island Return Guarantee – get a free return visit
Pre-book to guarantee entry
Saw - The Ride Reviews
"Saw: The Ride roars and screams, as if it's alive [...] The Drop delivers completely. As you crest the top of the hill, the track completely disappears before you. You really do get a "freefall" sensation. It's pretty breathtaking and hard to describe."
"It's an incredible experience that I would ride over and over again" - Sean Evans, Back to the Movies"As opposed to other coasters in the park, Saw is away from any pathway and gets around the forest, so you really don't know what you're going to find."
Did you know?
When Saw - The Ride opened in 2009, it broke the record as the steepest vertical drop rollercoaster in the world!

Theme Park Top Tip: Sit in Cart 2 for an extra surprise! No spoilers!

During development, SAW- The Ride was given the codename "

Project Dylan"!