Accessibility
Theme Park Accessibility
Explore how to get around the Theme Park & learn about the Ride Access Pass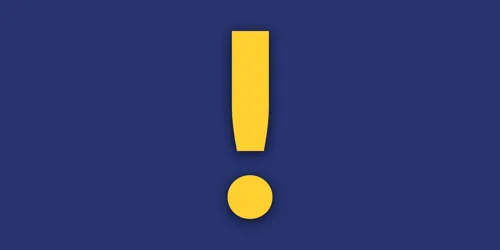 Important Information
All Ride Access Pass applications must be completed online, at least 7 days before your visit.
We are proud to partner with Nimbus Disability/Access Card, one of the UK's largest disability accreditation organisations, who now handle all Ride Access Pass registrations.
The Ride Access Pass application remains free, with the option to upgrade to a full Access Card for £15. Existing Ride Access Pass holders can continue to use their card as normal.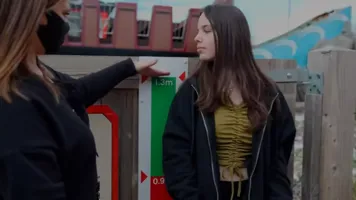 Ride Accessibility
Our rides and attractions have a variety of restrictions which are put in place to ensure our guest's safety.
Each ride has their own set of restrictions which must be adhered to at all times, some of which are due to ride restraints, forces or sometimes due to additional requirements if the ride has stopped and guests are required to exit before reaching the station.
We offer a Ride Access Pass to guests who may find it difficult or cannot stand for long periods of time either due to a physical disability or a learning/emotional impairment.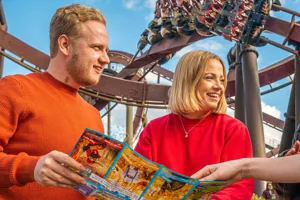 Missing Limbs or Amputation Information
At THORPE PARK Resort we aim to welcome as many guests on-board our rides as possible, however for your safety, each ride has different requirements for those with missing limbs.   
Guests with any degree of missing limb can experience the following attractions: Amity Beach, Angry Birds 4D and Black Mirror Labyrinth. To access any other rides and attractions guests must have a minimum of three full limbs. Please be aware that restrictions differ depending on the location of your missing limb, please see our interactive guide here for full restrictions.

Guests with two missing legs below the knee only can experience: Angry Birds 4D, Black Mirror Labyrinth, Colossus, Flying Fish, Nemesis Inferno, SAW – The Ride, Stealth The SWARM and The Walking Dead: The Ride*. Guests with two missing arms below the elbow only can experience: Angry Birds 4D Experience Black Mirror Labyrinth, Colossus, Stealth.

*Note that with certain rides you must have a prosthetic that can be brought to you in the case of an evacuation. Please speak with a member of the Guest Services team on arrival or contact us below.

Prosthetic limbs must be removed on the following rides: Flying Fish, Nemesis Inferno, SAW: The Ride, The Swarm, The Walking Dead: The Ride.
Please be aware, that guests with missing limbs must still meet all height restrictions set for our rides. Please note, if your missing limbs include missing legs you may be asked to attend our First Aid Centre where you'll be required, to remove any prosthetic limbs and your height measurement will be carried out on one of our beds
If you have any questions, please get in touch ahead of your visit: 
Call: 01932 577131 
Email: customer.services@thorpe-park.co.uk 
Theme Park facilities
Toilets
All toilets across the Resort have access for guests with wheelchairs or additional needs and can be found on the Thorpe Park App
We are also proud to have 'Changing Places' on the Theme Park located in The Dome. This facility includes a hoist, adult changing bed, height adjustable sink, shower and toilet as well as plenty of floor space to allow room for two helpers.
We also have Accessible Toilets located in the following areas: Admissions, next to THE SWARM ride, next to The Megastore in Amity and next to Lumber Jump in Old Town.
Please note: Access to the changing facilities will require a RADAR key which, if you don't have your own, can be collected on loan at Island Help & Information. A refundable deposit of £10 will be required to hire one for the day. 
Accessibility Kiosk
The Accessibility Kiosk located to the right of the turnstiles (after security checks, and is open from 9:15am-12pm for collection of Ride Access Passes, wheelchairs, ear defenders, and Radar Keys.
Island Help & Information
Located outside The Dome, Island Help & Information should be your first point of call if you require any further assistance on the day. The team can offer advice on Resort access and restrictions, height measuring, wheelchair access for collection of a Ride Access Pass (after 1pm), wheelchair hire, RADAR key hire, lost property and further information on available facilities across the Resort. 
First Aid
Located outside the Dome next to Island Help & Information, we have a range of facilities including cold storage for medicines at our Medical Centre as well as facilities for those who may require medical attention during their visit.
Hire Options
Wheelchair Hire
A limited number of wheelchairs are available for hire from the Accessibility Kiosk on a first come, first served basis. A £50 refundable deposit is required. 
Wheelchairs are subject to availability so we would suggest that guests who need a wheelchair to travel around the Theme Park bring their own for ease and certainty. Please take extra care when using them and speak to a staff member in Island Help & Information for further information.
Mobility Scooter Hire
We do not offer mobility scooter hire on Resort.
Pushchairs and Buggy Hire
A limited amount of Buggies are available from The Island Shop in the Dome. Our buggies rental is £10 for a single buggy, £15 for a double buggy and a refundable deposit of £10 is required.  Prices are subject to change. Buggies must be returned, at the very latest, 30 minutes prior to the advertised Park closing time to guarantee that the deposit is returned.
Buggies cannot be taken through any queue lines and therefore must be left outside the entrance of the rides, keeping the entry point clear.
Ear Defenders
Ear defenders are available to hire for a £20 refundable deposit from Guest Services or the Accessibility Kiosk.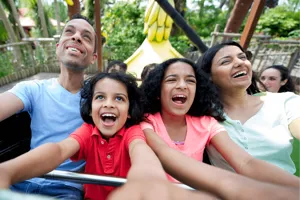 Ride Access Pass
We offer a Ride Access Pass to guests who may find it difficult or cannot stand for long periods of time either due to a physical disability or a learning/emotional impairment.
Find out more