Introducing… The FearStoreVal Emporium - FRIGHT NIGHTS Merchandise and Food & Drink
Tuesday October 20th 2020
Michael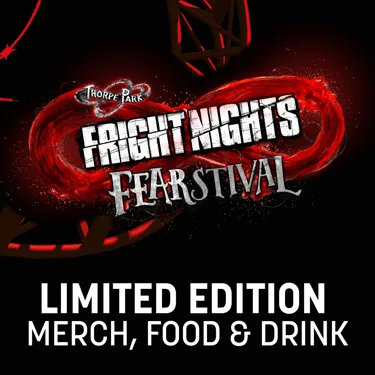 What FRIGHT NIGHTS Merchandise is up for grabs?
Packed with all your theme park Fright Nights souvenirs – from gloves to mugs, face masks to hoodies and re-useable water bottles - The FearStoreVal has your covered! Step inside and see just how much you NEED our Fright Nights essentials in your life. The FearStoreVal Emporium is a utopia for hardcore horror fans featuring gruesome brands like FRIGHT NIGHTS, SAW – The Ride and The Walking Dead! But don't just take our word for it, come and see for yourself.
Theme park jackets & pin badges  
Just like Harry's shopping trip down Diagon Alley, new students of Amity High and LycanThorpe High need to pick up their school essentials before their first day. Take a Fright Nights essentials shopping trip to The FearStoreVal Emporium to find exclusive branded jackets and pin badges. We have it on very good authority that these are selling faster than a werewolf sprinting to the top of a hill in full moon to howl – grab them QUICK before the last get snapped up!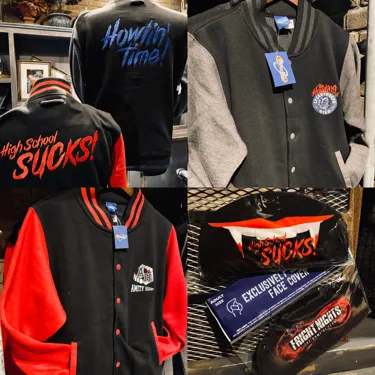 Trick or Treat yourself!
Your journey home from a theme park just wouldn't be right without some Pick & Mix… so of course, The Emporium has your back! With safety in mind the team have already done the mixing for you, so all you have to do is eye up the best tub and grab it before someone else does ;)
COVID-19 Safety in our shops
Fearseekers, don't forget when entering all indoor spaces across the Resort including our retails shops, face masks must be worn at all times. Please avoid touching items unless you intend to buy them.
The Thorpe Park FEASTival! Theme Park Halloween Food & Drink
Calling all FRIGHT NIGHTS Foodies! Here is your guide to all the FEASTival exclusive delights to sink your teeth into this Halloween… and most importantly where to find them ;-)
Savoury Snacks
Possibly the greatest news of 2020… we are pound to welcome back a theme park fan favourite – Spirello! For those who haven't yet experienced these delights – Spriello is a beautifully crispy spiralised potato dusted in your choice of salt, BBQ, paprika or satay. And like the greatest things in life, they're on a stick! Pick these up at Colossus Hotdogs.
Hell-a-pino Poppers… Like the name suggests, these devilish snacks pack a fiery punch! Head to Sombrero's Street food to grab a double serving of jalapeño poppers smothered in firecracker sauce and topped with even more jalapeños! Ay caramba!
Sweet delights
The Grave Digger Donut Sundae – exclusive to Fright Nights at The Donut Factory. A warm sugar donut topped with vanilla ice cream, chocolate sauce, Oreo 'soil' and crawling with gummy worms…mmm!
For something even chillier head to Nitrogenie for a 'Snowy Grave'. This delicious pot of goodness is filled with chocolate nitro ice cream, whipped cream, Oreo 'dust' and finished with a Biscoff 'gravestone'…oooh!
PLUS - our BRAND NEW Ben & Jerry's scoop shop is now OPEN! Serving your favourite flavours, from Cookie Dough to Cherry Garcia, from Chocolate Fudge Brownie to marshmallow-laden Phish Food. Think creamy shakes, saucy sundaes and freshly baked waffle cones. Find us right next to Stealth – just watch out for the teens of Amity High ;)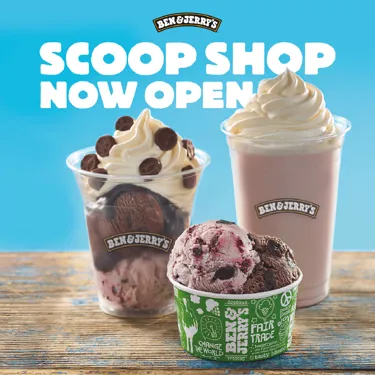 Somewhere in-between…
American snacks can be a little outlandish… but they're so darn good! Introducing 'All Mallows Eve Fries' – a crazy combination of crispy sweet potatoes fries loaded with chocolate sauce and mini-marshmallows. You'll find this darn crazy goodness at Wilderness Bar & Kitchen.
Fancy a sit down restaurant meal?
If you haven't checked out our new Infinity Bar & Kitchen now's the time! Just for Fright Night's we've launched a whole new menu featuring spooky starters like 'Hell-oumi fries' and vegan sauce roll bites. Plus, it's packed with delicious mains such as 'The Hellish Relish' or 'Villainous Vegan' burgers. Fearseerks with a sweet tooth *must* try the new Raspberry Bellini Cheesecake – we've tried it, and its b-e-a-u-tiful!
Top tip: book ahead to snap up that table – but please only book if you are sure to visit, tables are limited! To book, visit the Infinity entrance inside the Dome and speak to staff.
Fear is thirsty work - what drinks are available during Fright Nights?
Infinity Bar & Kitchen also hosts a creepy cocktail menu for the Fearstival! Chill out with a 'Blue Moon' or taste the 'Fruits of Evil' – you can even sip on 'Ma Buckwheats Moonshine'! Designated drivers (you hero's!) – we have you covered too! Treat yo' self to an 'Island Sunset' mocktail, as well as all the classic soft drinks.
New! Inferno's Tavern - chill out by the mighty Nemesis Inferno with a refreshing cold pint. Located at Inferno's Pizza Pasta, the tavern is your new go-to watering hole for Fright Nights.
COVID-19 safety in our theme park restaurants
Before you visit please familiarise yourself with our restaurant specific rules and plan accordingly:
Rule of 6 – no more than 6 people from the same visiting group per table
NHS COVID-19 check in – we will ask you to check in using the official NHS app at Infinity Bar & Kitchen, Inferno's Pizza Pasta and Wilderness Bar & Kitchen (plus some third-party restaurants).
10pm curfew – the Resort, including all restaurants, must be clear of all visitors by 10pm, therefore all restaurants will be closed by 9pm – please plan accordingly.
Alcohol – must be served and consumed seated at a table. Only available at Infinity Bar & Kitchen, Inferno's Pizza Pasta/Tavern and Wilderness Bar & Kitchen (takeaway not available).
HANDS – wash your hands before and after eating.
FACE – you must wear a face covering until you are seated to eat.
SPACE - don't move the tables - they're positioned to keep everyone socially distant. You must also keep your distance from other groups whilst queuing at a restaurant.
Find out more on our Coronvirus safety webpage.