The home of Halloween Scare Mazes
FRIGHT NIGHTS first launched at Thorpe Park way back in 2002 – originally called 'Fright Nites' (how 00's!). Since its creation many iconic attractions have come and gone - check out some frights from the past below.
Check out the latest line-up right here.
Find out about the latest FRIGHT NIGHTS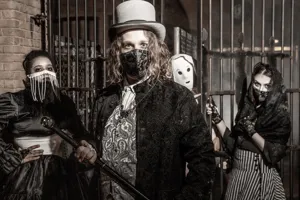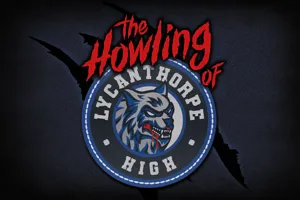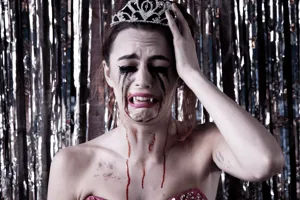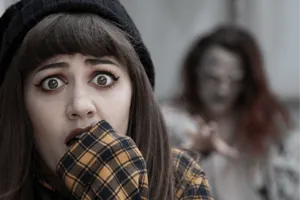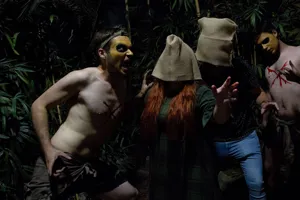 Vulcan Peak - 2018
The tribal lords of the Jungle were summoned and by the Harvest Moon of October their power was strongest. Hooded and marched into the depths of the wild, you had to rely on only your most primal instincts to keep your wits about you and make it out with your flesh and bones intact.
The sinister beat of the jungle drums and the chanting of an unknown language overwhelmed your senses as you edged your way closer to the belly of the beast to meet your doom. Were the Jungle gods merciful or were you sacrificed to the fires of Vulcan Peak?
Vulcan Peak may have only been with us at Fright Nights for the 2018 season, but the jungle drums and horrors of the overgrowth are sure to be stuck in our guests minds for years to come!
Dead Creek Woods - 2018
The previously pleasant surroundings of Dead Creek Woods had taken an apocalyptic turn in 2018.
Once a popular tourist spot famed for its stunning natural beauty, these decaying woods became infamous for an entirely different reason. The poor souls who didn't evacuate in time before the virus took hold were condemned to remain in their squalid quarantine forever, and it was up to you to navigate this formerly thriving scenic town and make it out the other side without becoming infected and doomed yourself!
Did you brave the unknown horrors of Dead Creek Woods at Fright Nights 2018? 
The Big Top: Showtime - 2018
After The Big Top circus' crazed clowns tore their colourful tent to the ground, it was time for the Figaro Bros. to find a new location for their travelling menagerie of torture and despair.
But we needn't have feared– the show went on! In 2018, the bright lights of the Dome took on a more twisted and sinister glow as the hysterical cast of The Big Top continued their carnival of magic, mystery and mayhem, and the Figaro Bros. left only the freakiest cast behind…IT'S SHOWTIME!
Did you come face to face with the crazed clowns of the Big Top on their rampage around the Resort?
The Walking Dead: Sanctum - 2017
Those who arrive...survive. In 2017 guests followed in the footsteps of survivors on their journey to refuge, but all was not as it seemed.
You either made your way to sanctuary past the roaming walkers or risked being captured. 
Did you survive? Or did you become one of The Walking Dead...
The Big Top 2015-2017
In 2015 we unleashed one of our most iconic scare mazes: The Big Top - the greatest scare on earth!
Guests twisted their way through this scare maze set in an abandoned carnival on the Island's Amity Beach, while former entertainers of the once famous Figaro Bros. Carnival came back to life to haunt those who dared to trespass.
The Big Top has gone down in Fright Nights history as an all-time fan favourite, but did you get to experience it during its 3 years at the Resort?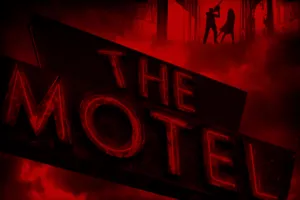 Studio 13 - 2014
Have you ever wanted to be a movie star? Then we're sure you auditioned for this blood-soaked blockbuster and stepped behind-the-scenes for a tour of the UK's most evil film studios.
After 13 years making horrifying productions, the deranged Director opened up his brand new studio to horror fans for one night only. As the lights flickered, the film crew were on hand to direct the action through a maze of bloodied make up booths, deserted motel themed sets and hanging body bags.
But true horror lurked behind the movie making and it wasn't long before visitors realised there was no happy ever after...
Studio 13 and the deranged Director came and went in what seemed like a blink of an eye!
Did you get to experience the horrors of Studio 13 during its short time at FRIGHT NIGHTS?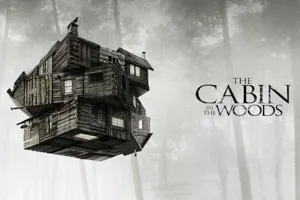 Cabin in the Woods 2013-2016
A UK first: guests were able to choose their own fate in an award-winning maze so disturbing and disorientating that they were desperate to escape. But the route to safety was far from easy.
Between 2013 and 2016, guests could experience a frightening live recreation of the ground-breaking satirical horror film. Visitors toured the seemingly innocent rustic cabin, within which hid a secret facility that unleashed nightmarishly hideous 'beings'.
It was a fully immersive, brilliantly themed maze where visitors could influence the outcome and come face to face with the nightmare and devastation that was the Cabin In The Woods.
Did you brave The Cabin In The Woods during its time at Fright Nights?
My Bloody Valentine 2013-2015
Between 2013 and 2015 guests could relive one of the most terrifying films of all time. Ten years after a tragic mining accident in the town of Harmony, Harry Warden awoke from his coma on Valentine's Day and brutally murdered 22 people with his pickaxe before being killed.
Years on, there was a killer on the loose – had Harry returned? Visitors found themselves in the horrific hospital ward before having to negotiate their way through the tunnels of an abandoned mine, neglected shacks and a pitch
black forest.
Do you miss this Fright Nights classic?
The Passing - 2012
In 2012, guests were tried, tested and sentenced to death in The Passing, a uniquely interactive, intensely horrifying experience that terrified even the bravest of thrill-seekers to their core.
Using cutting edge techniques never seen before at Thorpe Park Resort, guests experienced the suffocating and claustrophobic terror of having their heads confined and their sight removed by a hessian body bag as they faced the unknown horrors of the after-life.
Were you brave enough to book your time to die?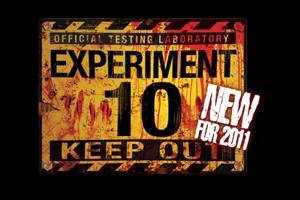 Experiment 10 2011-2012
EXPERIMENT 10 was unleashed for 2011, where guests journeyed through a chilling and disturbing government test lab where the latest project, Experiment 10, had taken a sinister twist...
Guests were subjected to their deepest, darkest phobias, coming face to face with mutated test victims and all kinds of horrors within the facility.
Rumour has it you can still hear people screaming for a way out of Experiment 10's deadly grasp to this day...
Did you witness the horrors of EXPERIMENT 10 in its short life at Fright Nights?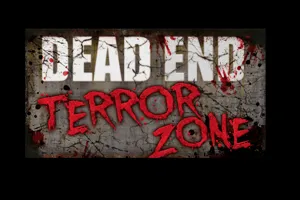 Dead End Terror Zone - 2010
Did you dare enter the shadowy ride graveyard of Thorpe Park Resort's Dead End Terror Zone?
A devastating virus had been unleashed attacking all in its path, turning them into the ravenous undead. In 2010 guests explored the horrors of the Terror Zone as the undead lurked in the shadows and lurched out on their next unsuspecting victims.
Did you escape untouched by the terrors of the virus, or did you forever become 'one of them'?
Saw Alive - 2010-2018
From the twisted minds that created the world's most terrifying roller coaster SAW - The Ride, came the world's most extreme live action maze! Visitors came face to face with the sadistic Billy puppet and faced his nightmarish games…winding their way through this brilliantly themed multi-roomed maze.
With each room based on an iconic scene from the terrifying SAW films, guests had to test their nerve in some of the movies' most memorable traps. Escaping freezing temperatures, braving foul stenches and feeling their heart race in the darkness.
SAW Alive was one of our longest running Fright Nights attractions, but in 2018 it was with a heavy heart we confirmed it would not be returning for 2019.
But fear not! If you're still trying to get your twisted Jigsaw fix, we've still got our gut-wrenchingly extreme Saw:The Ride!
The Curse - 2008-2012
Those of you who were brave enough to venture into the disturbing crime scene of The Curse would have come face to face with the dark and terrifying secrets that had laid dormant for 50 years.
If you're reading this we're assuming you didn't disturb the curse and meet a watery grave. Do you miss this Fright Nights classic?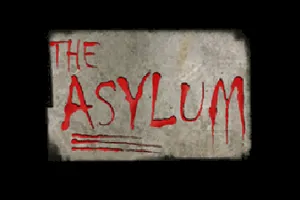 The Asylum 2005-2013
The Asylum saw guests enter the hair-raising labyrinth of cages and blood splattered walls of an out of control Asylum. 
Running for 9 seasons, The Asylum was one of our longest running Fright Nights attractions.
Although The Asylum may have closed its doors for good, we're sure the gruesome sights and sounds will be engraved into the minds of those lucky enough to escape for years to come.
Do you miss this Fright Nights classic? 
Hellgate 2005-2010
Did you dare enter the depths of the Hellgate mansion?
Between 2005 and 2010 guests had to navigate its dark twisting corridors and forgotten inhabitants as they tried to take their vengeance. They stopped at nothing and excused no one…
The maze saw our guests plunged into a terrifying and horrible series of rooms, utilising a disused part of the X:\ NO WAY OUT queue line. 
Did you escape Hellgate mansion, or did you get trapped in its twisted hallways forever?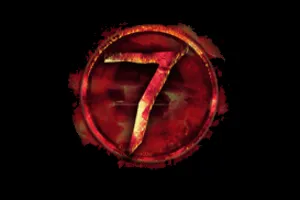 Se7en 2006-2011
Se7en was part of the Fright Nights lineup between 2006 and 2011, and saw guests come face to face with the seven deadly sins in all their gruesome glory: Wrath, Sloth, Pride, Lust, Envy, Gluttony and Greed.
Guests' senses were attacked from all angles leaving them reeling and desperate to repent.
The maze was situated in the old Ranger County Arena and became a classic Fright Nights attraction after leaving the lineup in 2011.
Did you experience Se7en during it's time at Fright Nights?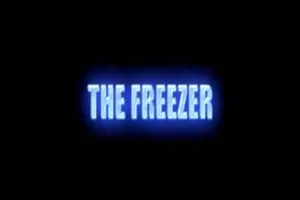 The Freezer 2002-2004
The Freezer was definitely not for the faint of heart!
Between 2002 and 2004 guests made their way through a terrifying frozen labyrinth, filled with dead ends, smoke, mirrors and of course - the unfortunate ones who called The Freezer their home!
The Freezer has gone down as a Fright Nights classic after it closed in 2004, but did you get to experience the frightening frozen labyrinth during its time at the resort?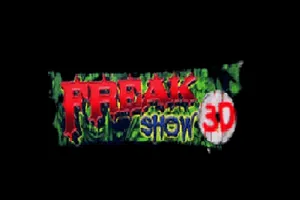 Freakshow 3D 2002-2004
One of our first ever Fright Nights attractions, Freakshow 3D saw you make your way through a twisted and terrifying experience.
After putting on a pair of 3D glasses you were sent on your way through blood curdling corridors filled with actors and gruesome 3D special effects.
Freakshow left the Resort in 2004, taking all its horrors and gruesome goings on with it. Do you remember this Fright Nights classic?