All Aboard Platform 15: Thorpe Park's One-Way Halloween Train
Final call for all passengers! Depart on a one-way ticket and trek along the overgrown railway line, the last known route of the vanished locomotive - the notorious Sleeper Express. Don't lose your tracks and risk disturbing the haunted souls that were once aboard. Can you outrun what lies at the end of the line or will your journey terminate here, at Platform 15? 
Platform 15 is NOT included in your FRIGHT NIGHTS entry ticket, and will require an additional paid ticket.  
Please note: All FRIGHT NIGHTS experiences and attractions are recommended for ages 13+. Platform 15 is an outdoor experience and due to the terrain is therefore not suitable for wheelchair users.  Guests experiencing Platform 15 must be able to stand independently for a prolonged period of time. For those looking for a less intense experience, we recommend booking your time slot before dark.
Terrifying Trio Maze Package
Passholders & Hotel Guests
£24
Platform 15 scare maze
Creek Freak Massacre scare maze
Trailers scare maze
Theme park entry must be purchased separately
Gallery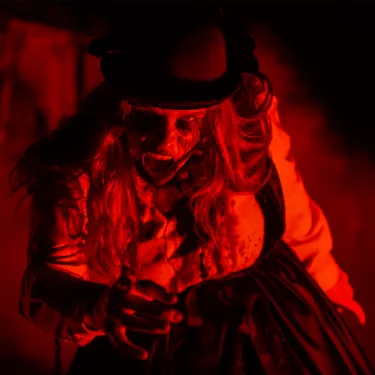 Check out our other bone chilling and thrilling scare attractions