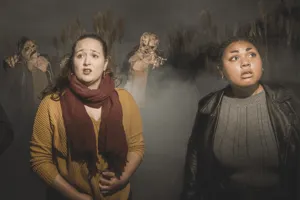 THE CROWS
Near The Crows nobody goes, are they watching? Nobody knows. Myths passed down from generations. Did that just move, or was it your imagination?  They roam and they creep in the dead of night, but blink and they're gone, out of sight. Near The Crows, nobody goes. Are they watching? Nobody knows. 
Appearing at various mystery locations from 3pm.
The Crows is included in your FRIGHT NIGHTS entry ticket. Book now from £39pp. Pre-book online to guarantee entry.
Please note: All FRIGHT NIGHTS experiences and attractions are recommended for ages 13+.
Check out our other bone chilling and thrilling scare attractions