Keep your cool!
Thursday July 14th 2022
Thorpe Park
summer, heatwave, water refill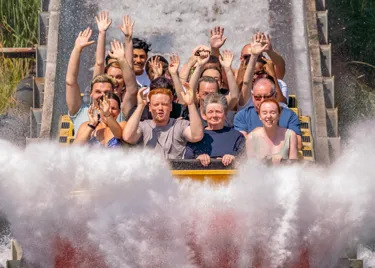 With the up coming days and weeks looking hotter than Nemesis Inferno's volcanic lava, join for fun in the sun with a super soaking on the side at the UK's Wettest Theme Park!
Whether you're braving the 85ft plunge on Tidal Wave to get the equivalent of 2.7 bathtubs full of water drenched over you, seeking some family fun on our exhilarating Storm Surge and Rumba Rapids, or you're set on racing down our family fun super slide Depth Charge, THORPE PARK is THE destination for a wet 'n' wild DayOut!
Plus, we have one of the closest beaches to the M25 and London! Cool Down with a paddle at our Amity Beach and get those summer beach vibes within the UK's most thrilling theme park!
ARE YOU DRINKING ENOUGH?
Remember to stay hydrated and drink LOTS of water! Doctors tell you, your parents tell you and now we're telling you!
We currently have 4 locations across the park where we have water bottle refill stations. These are located:
At the front of the toilet block on Swarm Island
At the front of the toilet block at Angry Birds
At the fence line in Amity in front of KFC
At the Front of the Freestyle building by Rush
And you can get water from any of our food and beverage units.
WE ALL SCREAM FOR SUN CREAM
Ladies and gentlemen of the class of '22. Wear sunscreen.
It's super important to protect yourself when you're outside in direct sunlight for the day. Sun Cream dispensers can be found attached to the fence line in Amity in front of KFC and attached to the fence line outside the Colossus shop.
BEAT THE HEAT
When possible, we'd advise you stay in the shade. There are a lot of leafy areas on the resort, but if you're looking for a place to relax out of the sun, we'd recommend The Dome. Inside you'll find plenty of seating and if you're looking for a cooling drink or bite to eat, head into Vibe's Bar & Kitchen or pick up an iced coffee from Costa Coffee Shack. 
You'll also find The Island Shop to pick up a fab souvenir from your day out! We've got a great range of 2022 pin badges and some awesome retro Thorpe Park goodies.
DOWNLOAD THE APP
Check out queue times, find where to refill your water and top up on suncream - search 'refill' or 'suncream' in the search bar for directions.