Super-soaking Water Ride
Experience a super-soaking splash that must be seen to be believed. Plunge 85ft into the waters below on Tidal Wave: an epic Shoot the Chute ride.
A drenching awaits you - and any bystanders not quick enough to escape the wave - on our wet and wild thrill ride.
Ride overview
You must be at least 1.2 m to ride
Accessibility Information
Non-Ambulant & Wheelchair Access
You must have full upper body strength including head and neck control and be able to brace against the forces.
This ride is suitable for non-ambulant riders, you must be able to transfer into the ride seat with assistance.
For non-ambulant riders, an evacuation chair is present to assist with the descent from the lift.
Missing Limb or Amputation Information
Rider must have a minimum of 3 full limbs, missing/amputated legs must be below the knee.
Prosthetic limbs must be secured or removed before boarding.
Evacuation
In the event of a lift evacuation you must be able to pull yourself up and out of the seat at an inclined angle and make a 180 degree turn onto the walkway.
The safety of our guests is paramount, and as part of our legal obligations we have conducted a risk assessment of all our rides which indicates that some cannot be ridden safely by guests with missing or amputated limbs, or those who use a prosthetic limb.

Each ride has been assigned a limb safety requirement, ranging from no restrictions in the number of limbs a guest has, to all 4 limbs being required. Please note that where a ride stipulates a minimum number of limbs a prosthetic limb cannot be used to reach this number.

A full list of restrictions are detailed in the Accessibility Guide. You can also view our example Ride Access Pass Time Card which has information on ride restrictions.

All prosthetic limbs must be secured to the guest's body or removed before boarding any ride.

If you have any other questions or would like to discuss your situation in more detail prior to your visit either via Phone: 01932 577131 or Email: Customer.services@thorpe-park.co.uk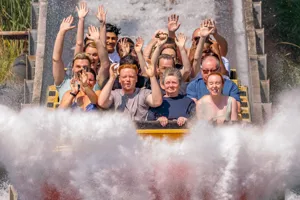 Be Prepared to get VERY VERY WET
This is no ordinary log flume ride. Tidal Wave is a giant 'Shoot the Chute' flume, promising a splash like no other! From a height of 26m the over-sized boats plummet towards the water below. As the boat hits the water, it transfers a force of 88000N - the result: an epic water wave!
For every person that climbs aboard, there's 215 litres of water awaiting them. That's 2.7 bathtubs full of water, for every single rider. But there's still some super soaking water 
You don't even need to be on the ride to get soaked. Brave bystanders can watch the wall of water fly towards them, directly within the splash zone!
Top Tips for Drying Off
There's no denying it, you will get very wet on Tidal Wave! If it's a warm day, the water can be refreshing. On a cold day, here are some tips to stay warm!
There are lockers situated around the park. Why not pack a towel and/or a change of clothes to grab after the ride?

There are coin-operated warm air dryers around Amity Cove. Step inside to dry off your whole body.

Take shelter in Amity Fish and Chips and warm yourself up from the inside out with delicious theme park food.
Choose your ticket
Experience over 30 rides and attractions
Save up to £31pp when you book in advance
Children under 1.2m tall visit free
Island Return Guarantee – get a free return visit
Pre-book to guarantee entry
Access to events on selected dates
Tidal Wave Ride Reviews
"Tidal Wave is the most visually spectacular ride at Thorpe, and is guaranteed to leave riders drenched. [...] The drop is quite breathtaking [...] and the complete wall of water riders experience at the bottom is even more so. Needless to say, riders come off absolutely soaked."
- Total Thorpe Park
"The sheer atmosphere this ride creates (as well as the more than impressive splash) easily makes this one of the most spectacular water rides in the country!"
- Total Thorpe Park
"You go up and up and up and then suddenly plummet down into a huge pool of water! We got soaked but when the next Tidal Wave riders came down, we stood there and let them soak us!"
- Huffington Post
"Standing near the soak zone of Tidal Wave watching the huge wave come so close to us was great fun."
- You Need to Visit
Did you know?
There are 3 million gallons of water waiting for you at the base of our 85ft drop ride.

Record-breaking ride: when Tidal Wave was built, in 2000, it was the tallest water ride in Europe!