The Walking Dead: The Ride
The Walking Dead Rollercoaster
Thorpe Park Resort is overrun by Walkers and there is but one goal: survive. Making it to the sanctuary of the Safe Zone is vital for salvation. Located at the centre of the Island, navigate your way to the safety of the indoor bunker. But be warned: all signs point to an imminent invasion of Walkers and ahead, there's a pitch black abyss! Keep your head down and move quickly for your best chance of staying alive.
For the first time ever, experience The Walking Dead: The Ride. Those who ride… survive! We will see you at the Safe Zone…
Ride overview
You must be at least 1.4 m to ride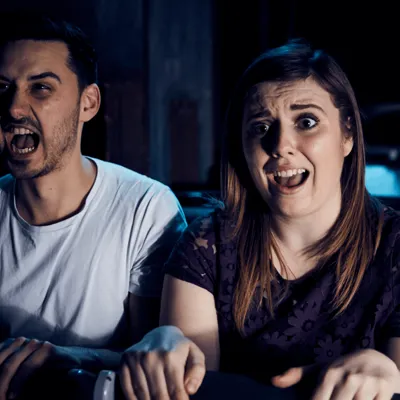 Ride this Indoor Rollercoaster, in the dark!
From the moment you join the queue line, you leave Thorpe Park behind and step into an immersive episode of the world-renowned horror TV show: The Walking Dead. 
This indoor rollercoaster features live-action role play, terrifying actors and an immersive pre-ride show. It may be housed under a giant, ominous roof, but this non-powered rollercoaster features a drive tire lift hill and high-speed drops of almost 10m. It's proof that you don't need to turn upside down for a thrill ride experience that'll make your heart race!  
This theme park attraction combines a rollercoaster ride with live actors, so you can escape real Walkers at 45 km per hour. But be warned, the journey to the safe zone involves riding this horror themed rollercoaster in the dark! 
Inspired by The Walking Dead, the iconic AMC television series, this ride is dedicated to creating a full-on themed experience. Walkers are hiding around every corner!  On The Walking Dead: The Ride, it's Fright Nights all day, every day!
The Walking Dead: The Ride Reviews
"By the time you get to the roller coaster - the safety zone light flashing before you - your heart is already racing."
- The Mirror
"If you like The Walking Dead then you'll love this immersive experience. The theming around the coaster and general attraction area is very detailed"
- Theme Park Incorporated
"The combination of sensory deprivation and a constant sense of movement is certainly unsettling."
- Radio Times
"The worst part of the ride is that you don't know what's going to happen around each corner – it's also the best part."
- The Sun
Did you know?
Thorpe Park's ride designer, John Burton, researched this themed ride by watching 150 episodes of The Walking Dead.

There are many references to the original incarnation of this rollercoaster - X:\ No Way Out in the queueline. See if you can find them!
Please note: this attraction is not suitable for those under the age of 13, guests with heart, neck or back problems, epilepsy or claustrophobia and those who suffer from motion sickness or dizziness. This multi-sensory theme park ride contains sudden stops, lighting effects and haze
The Walking Dead©2019 AMC Film Holdings LLC. All Rights Reserved.