INFINITE THRILLS: THE UKS TOP ROLLER COASTERS
Monday February 3rd 2020
Charlotte
We're thrilled it's finally February! We're so thrilled in fact, we thought we'd dedicate this blog post to the UK's best roller coasters. It's always a hotly debated subject, but read on to see why we think our thrilling, adrenaline pumping, white-knuckle roller coasters deserve a place on the list!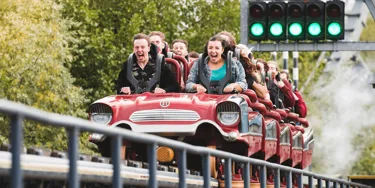 Found in the Lost City, Colossus (the world's first ten loop rollercoaster!) will take you on an unforgettable journey. Use the 98ft incline to brace yourself for this extraordinary adventure, where you'll not only experience the UK's first quadruple barrel roll, but you'll also feel the rush of adrenaline take over your body on this record-breaking coaster!
Journey into the jungle and endure the intense heat of Nemesis Inferno. Twist through the scorching forces and lava-laden loops of this intense and volatile volcanic voyage. Embark on this terrifying tropical thrill as you race through the tree tops and take on the Island's only inverted inversion!
Dare to challenge Jigsaw? Put your bravery to the test as you take on the world's first horror themed rollercoaster, SAW – The Ride. Incline at a terrifying 90 degree angle before you tip over the edge to plummet 100ft at 100 degrees, narrowly missing the blood-soaked blades dangling above you. Hold on tight as you twist and turn at exhilarating speeds on this adrenaline-fuelled, petrifying coaster experience!
Race to Stealth Plaza and challenge your limits as you take on the iconic white-knuckle launch coaster Stealth. Hurtle to 205ft at a breath-taking 80mph in under 2 seconds flat! Propel to the top where you will have outstanding views reaching as far as Wembley Stadium, Windsor Castle and The Shard, but you'd better take in those views quick, as before you know it you'll be racing back down to ground level. This unforgettable coaster is one of the most heart-racing, palm-sweating rides Thorpe Park Resort has to offer!
Immerse yourself in a post-apocalyptic world and soar through the devastation left on Swarm Island. Take in a deep breath as you exit the abandoned church to climb 127ft where at the top of the incline you'll rotate an intense 180 degrees before the inevitable plummet. Skim under the wreckage of a plane crash, burst through the ruins of a billboard and feel the force of 4.5Gs on this unmissable, scream-sational thrill! All this is only to be experienced on the UK's first winged rollercoaster, THE SWARM!
So the question now is which extraordinary, exhilarating, extreme thrill will be your first ride of 2020 at Thorpe Park Resort?
Until next time Thrillseekers!
Charlotte