Top 4 Tips for Getting Around The Island With Small Children
Monday August 8th 2016
Jordan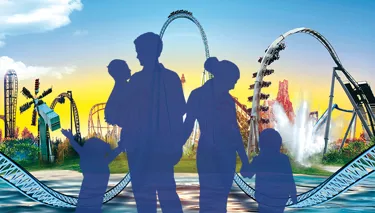 Some say having children is the best time of your life. But it's also absolutely knackering, your life changes forever and suddenly the idea of a fun day out at a theme park is nothing but a distant memory. But it doesn't have to be that way! Just because you're parents now doesn't mean you lost your license to thrills! We've put together a handy list of all of the awesome services we provide here at THORPE PARK Resort that makes a day out with little ones so straightforward you'll kick yourself that you didn't go for it sooner! Here's our top four
1. Kids Under 3 Go Free
Probably the best thing about bringing a baby to THORPE PARK Resort is that you don't even have to pay for them to be there, so you guys get all the excitement of an awesome thrilling family day out at no extra cost. Bonding over rollercoasters, what could be better? 
2. Parent Swap
We're not crazy, we know a baby has no business being on a rollercoaster, but that doesn't mean you don't! Our amazing Parent Swap Passes mean you can still ride without having to both queue up. With the pass, one parent looks after baby whilst the other queues and rides. Then simply get the pass signed by ride staff when you're finished getting your thrill fix, hand over to your partner and they can hop straight on via the Fastrack queue! Minimal queueing and no extra hands required to look after the little one, sorted!
3. Baby Facilities
There's always that panic of leaving the house with a baby that there's going to be some sort of toilet based emergency. No need to worry about that here on the Island, we've got you covered! We have 4 fully equipped baby-changing locations on park; all you have to do is grab a radar key from Guest Services when you arrive with a £10 refundable deposit for unlimited access to these facilities all day.
4. Baby Food options
Starting in 2016 we now offer free baby food when parents dine available at Amity Fish n Chips, Bush BBQ and Desperado's Mexican Cantina. You can also use our highchair facilities available at all sit down restaurant locations. But that's not all! If you prefer to bring your own you can head down to our First Aid Centre and make use of our microwave facilities to warm it up. It literally couldn't be easier.
So no more excuses allowed we're afraid! We have you covered so stop denying yourself a day of fun – sure parenthood is thrilling in itself but sometimes you just need to let your hair down and ride some coasters. No babysitter? No problem.
Have you used these facilities before? What's your experience bringing a baby on a day out? Is there anything you'd love to see on park to make bringing a baby with you even easier? Let us know in the comments, we'd love to hear from you!
Until next time Islanders,
Jordan
Official THORPE PARK Resort Blogger