Need a place to celebrate on May 19th?
Tuesday April 24th 2018
James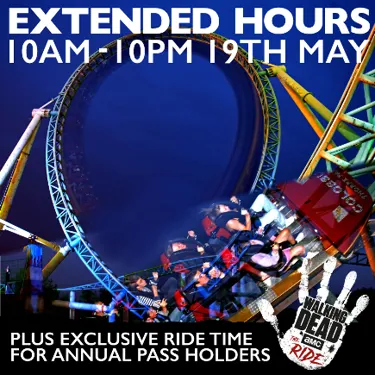 Islanders!
We've just had the sunniest April in history and lots of you made your way down to the Island Like No Other for some fun in the sun! We loved seeing all of your pictures of ice creams, sun-kissed coasters and Tidal Wave splashes so much so that we want to treat you all to the details of our next completely unmissable event.
On Saturday 19th May we've decided to extend our park opening hours from 10am until 10pm to launch the summer in true THORPE PARK Resort style. That is a whole 12 hours of non-stop theme park action. What could be better than that?
Join us on the Island Like No Other to celebrate the wedding of Prince Harry and Meghan Markle for a right royal knees up! Where better to have a wedding breakfast than Inferno's Pizza and Pasta Buffet and who needs wedding cake when you can enjoy donuts from the Donut Factory until 10pm.
Of course, you can take on your own variant of a first dance by experiencing all the twists and turns of Wedding Day Waltz by whizzing round on the ten loops of Colossus or flying around on THE SWARM (bonus points for any of you who turn up in a full Bridal Gown or Tuxedo). We will be showing the Royal Wedding in the dome so bring a hanky if you get emotional at weddings (I know I do)
For those of you who want to hide away from all things Royal Wedding related we also have your backs. Take on our incredible rollercoasters and fantastic thrill rides for the entire day without a second thought about anything else! My personal favourite is a sunset ride on SAW-The Ride or an early evening launch on Stealth.
We're also going to be showing The FA Cup Final (Chelsea vs Manchester United) in the dome for those who may want a break from 12 hours of non stop rides or just don't want to miss the match!
If you can't be with us all day on Saturday 19th May then fret not. We're offering those of you who can't visit until after 5pm the chance to join us for just £10. You can only buy these tickets for admission between 5pm and 10pm so if you wish to be with us all day then these aren't the tickets for you. You can pick those tickets up here!
The Walking Dead: The Ride will be exclusively open to Annual Pass and Local Pass holders between 6pm and 10pm with the ride closing to non-Annual Pass holders at 6pm. To ensure that as an Annual Pass or Local Pass holder you're allowed access to The Walking Dead: The Ride for this exclusive experience you will need to show your annual pass at the entrance of the ride.
To experience the event to the full, get yourself a THORPE PARK Resort Annual Pass for just £49 so you pay once and can come back for an entire year of unmissable events.
Meet you at the Safe Zone!
James
Official THORPE PARK Resort Blogger