A THEME PARK LIKE NO OTHER: Five Days to Scream!
Tuesday October 29th 2019
Thorpe Park Official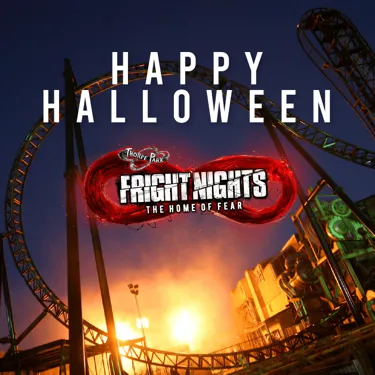 FIVE DAYS TO SCREAM
We can't believe *grabs tissues* that there's less than a week of the 2019 season to go! How has this happened!? Didn't the season start a couple of days ago? BounceZilla inflated for the first time on Saturday, right?
It's hard to believe that this time next week, the 2019 season will be over! Best book your tickets to FRIGHT NIGHTS, now!  Cheer up though! It's Halloween on Thursday, the gem in the spooky season crown! We love a good costume here at Thorpe and as it's the only time of year where it's socially acceptable to leave the house dressed as a psychopath, head down to the Island in your best Halloween threads. Just remember, no masks please! This is to keep you and our staff safe.
Check out our list of screamingly good scare attractions that are here for you to experience right up to the end of the season! 
And as the season draws to a close, we want to look back on the amazing year we've had. Share your favourite memories and photos from the 2019 season with us using #ThorpePark2019 and be in with the chance of starring on our social media channels throughout winter! Seeing your smiling faces enjoying our fab rides and attractions will warm everyone's hearts and keep us sane until 2020!
SHOP TILL YOU DROP (DEAD)
As usual, our FRIGHT NIGHTS merchandise is flying off the shelves, so pop in and grab a spooky souvenir as a chilling reminder of your visit to the Home of FEAR! We particularly LOVE the hoodies, shot glasses and all the other items! Check out our FRIGHT NIGHTS merchandise blog post for the full creepy catalogue!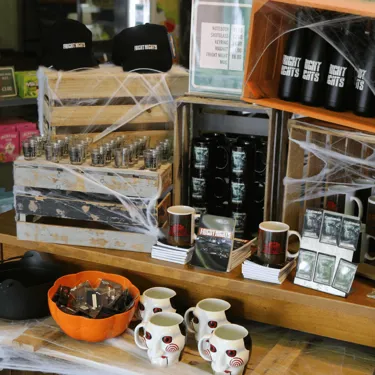 Looking for an eco-friendly keepsake? Last week, the Resort launched a fantastic plastic, FRIGHT NIGHTS pint cup! This save-the-planet souvenir is reusable, recyclable and a great reminder of your visit! Look out for yours across the resort today!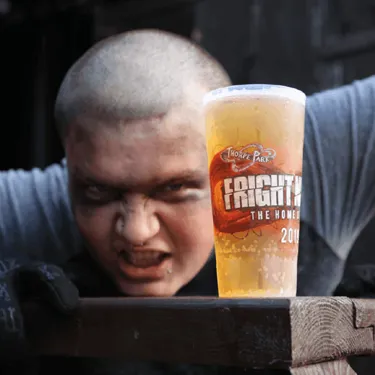 A FRIGHTFUL FEAST FOR ALL
Friday the 1st November is World Vegan Day! We want to make sure there's something tasty for everyone. Our Food & Beverage team have created the Villainous Vegan Burger! Vegan, tasty and just a little bit villainous, it's served with a rich barbeque sauce and hummus slaw and is drop dead delicious!
We have a feast of FRIGHT NIGHTS snacks, drinks and meals, which you can read all about here!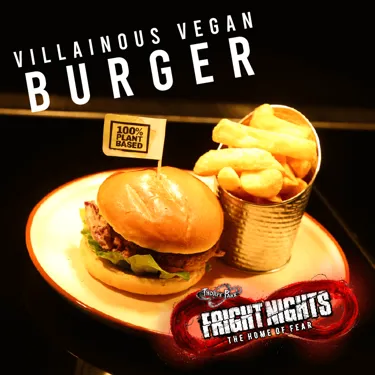 GOODBYE 2019 - HELLO 2020 SEASON PASS SALE
The season may be coming to an end but we're already looking forward to the new year and another amazing season of fun and thrills! If you're looking forward to next year too, take advantage of our 2020 Season Pass Sale! Get your hands on a shiny 2020 Pass and all the fab benefits for just £45. Buy yours here, or head to the Island Ticket Centre during your visit before the 2019 season ends!